Partner Information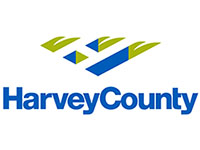 Harvey County is the 15th-most populous county in Kansas, home to nearly 35,000 residents. Our area pairs picturesque country living with vibrant downtown shopping centers throughout our communities. Harvey County serves the cities of Newton, North Newton, Halstead, Hesston, Sedgwick, Burrton and Walton, as well as 15 townships that comprise the county. Newton is the county seat.
Harvey County is home to a bustling airport and train service, sprawling parks, welcoming school districts and three renowned institutions for higher learning - Hesston College, Bethel College and a satellite campus for Hutchinson Community College. Delicious food and unique entertainment opportunities abound throughout the county, with even more amenities within a short drive to our friendly neighbors such as Wichita, Hutchinson and McPherson.
We enjoy a safe, enthusiastic work environment with well qualified employees that establish us as an emerging leader in the state. We offer health, vision and dental insurance, as well as retirement savings through KPERS or KP&F. Employees can accrue vacation, sick and personal leave. The County observes 10-1/2 days of holiday each year.
We want you to be here, too. We appreciate your interest in Harvey County. For more information about our open positions, please call us at 316-284-6800.