Partner Information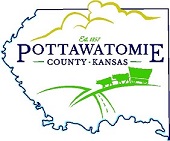 Pottawatomie County
Pottawatomie County is located in northeast Kansas, along the Highway 24 corridor connecting the cities of Topeka and Manhattan. As one of the most rapidly growing counties in Kansas, with a population of more than 22,000 people, the county is quite large and diverse. The county contains several cities and towns including: Belvue, Blaine, Duluth, Emmett, Flush, Fostoria, Havensville, Louisville, East Manhattan, Olsburg, Onaga, Saint Clere, St. George, St. Marys, Wamego, Westmoreland, and Wheaton. One unincorporated community, Blue Township, is the fastest growing residential area of the county with more than 3,000 residents. Most of the county is rural and agricultural but there are city centers scattered across the county. For more information, visit www.pottcounty.org.
POTTAWATOMIE COUNTY EMPLOYEE BENEFITS
Pottawatomie County provides, as a sampling, the following benefits for benefit-eligible employees:
Health Insurance – options include medical (with prescription benefits), dental, and/or vision
Employee Life Insurance
Paid Time Off (PTO), including a generous leave plan, paid holidays (not applicable for part-time employment), bereavement leave, and more
Kansas Public Employees Retirement System (KPERS) or Kansas Police and Fire Retirement System (KP&F)
Deferred Compensation program
Additional Optional Insurance (Including Life, Cancer, Accident, Flexible Spending Accounts, Short-term Disability, Hospitalization, Identity Theft and Pre-Paid Legal Services)
Payroll Direct Deposit
Credit Union Membership
APPLICATION AFFIRMATION
Thank you for your interest in employment with Pottawatomie County. By submitting your application for any position with the County, you understand and agree to the following statements:
I attest that the information is true and complete to the best of my knowledge. If any information I provide is untrue, or if I conceal material information, I understand that this will constitute cause for the denial of employment or immediate dismissal.
Employment with Pottawatomie County is considered to be "at-will". Submission of an application does not establish an obligation for Pottawatomie County to interview the applicant for the position or offer employment, nor is a completed application considered a contract of employment.
By submitting an application, I authorize Pottawatomie County to conduct a background check including but not limited to: employment history, personal references, criminal convictions, educational information, and others (for information on your rights under the Fair Credit Reporting Act visit http://www.ftc.gov/bcp/menus/consumer/credit/rights.shtm).
Pottawatomie County is committed to a drug-free workplace. If offered a position with Pottawatomie County, I understand the offer is subject to the successful completion of a post-offer pre-employment drug test as a condition of employment. Certain positions may require additional testing, which may include written, verbal, or physical assessments. I understand the failure to pass required substance-abuse screens or medical/health examinations may result in withdrawal of the job offer.
I understand if the position I am applying for requires the operation of a motor-vehicle I must maintain a clean driving record and personal licensure appropriate to the vehicle(s) and responsibilities of the position. Further, I authorize the employer to request and obtain motor vehicle records necessary to confirm my licensure and responsible driving history.
Pottawatomie County is an Equal Opportunity Employer.
It is the County's policy to afford equal employment opportunity to all employees and applicants for employment as per Title VII, and the ADAAA. Personnel decisions, including hiring, promotion, transfer, training, etc. are based upon merit (e.g. education, successful job experience, demonstrated potential) and bona fide occupational qualifications.
Contact Information
If you have any questions about employment with Pottawatomie County please contact:
Human Resources
Pottawatomie County
207 N 1st St
PO Box 348
Westmoreland KS 66549
785-457-3455
humanresources@pottcounty.org