Partner Information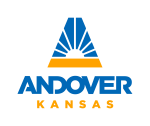 Come on over to Andover!
The City of Andover is a 10 square mile city in Western Butler County, Kansas. The city limits of Andover and Wichita are contiguous. Thus, Andover residents enjoy a small town lifestyle with the amenities of a large city right next door. Andover is one of the fastest growing cities in the State of Kansas. The population of the city has grown from 6,698 in 2000 to over 14,000 today. The quality of life in Andover is second-to-none with a first-class school district, a 115,000 square foot full-service YMCA facility (with an aquatic park), a private general hospital with a full range of services including an emergency room, and a Dillon's Marketplace.
Welcome to Andover, where we believe you will quick agree, "It's home to me!"
Benefits
Vacation Leave—All regular City employees are eligible to take paid vacation after 6 months. Vacation is accrued each pay period (every 2 weeks).
1 year 86 hours
2 - 5 years 118 hours
6 - 10 years 142 hours
11 - 15 years 166 hours
16 - 20 years 190 hours
21+ years 214 hours
· Sick Leave - Employees accrue 8 hours of sick leave per month.
· Injury Leave - An employee injured on the job, except in the case of substantiated gross negligence, is eligible to receive up to a total of forty (40) hours per injury of injury leave (not sick leave) with pay.
· Holidays - The City provides 13 paid holidays.
· Medical and Dental Insurance - Coverage is provided by Blue Cross Blue Shield. Employees can be covered at 90% of single coverage or eighty-five (85) percent of all other plans (employee/spouse; employee/child; full family). Employees contribute 15% for single plans. Tobacco users pay 5% more
· Retirement - The City participates in the Kansas Police and Fire (KP&F) Retirement Program for commissioned Police and Firefighters. All other employees who have completed their training period (at least six months) participate in the City's Simplified Employee Pension (SEP) Plan. The employer's contribution is 6.0% of gross compensation.
· Deferred Compensation - Employees are not required to make contributions to a Public Employee Deferred Compensation (PEDC) Plan, but are allowed to make elective contributions. In the event the employee makes elective
contributions, the City will match those to a maximum of 3.0% of gross wages in addition to the 6% for the SEP plan.
· Tuition Reimbursement - The City of Andover provides up to $1,000/year for approved college education courses.
· Wellness Program - A wellness program complete with regular health and wellness challenges as well as incentives are available to employees. Additionally, employees receive discounted memberships to the YMCA.
· Performance Pay Increases - Employees have an opportunity for a merit increase based on annual performance reviews.
· Short/Long Term Disability and Life Insurance – Police and Firefighters receive long-term disability and life insurance through KP&F. Police and firefighters receive Short Term Disability Insurance through a group plan at a cost of .26% of gross, non overtime wages. All other employees' short/long-term disability and life insurance plans are provided through a separate group plan. The amount of coverage for the employee is $50,000; for the employee's spouse and other dependents $2,000. The costs of this insurance is paid through a mandatory .64% payroll deduction from the employee's gross, non overtime wages. Additional (optional) group life insurance is available.
· Other Optional Insurance - Additional insurance plans are available to employees including cancer and accident plans.
· Employee Assistance Program (EAP) - Various referral and counseling services are available for employees and their families.
We only accept applications for positions that are currently open and advertised. If you would like to attach a resume you may, but an attached resume does not replace the need to complete the online application entirely.
The City of Andover is an Equal Opportunity Employer.
The City of Andover is an equal opportunity employer. The City of Andover does not discriminate in employment on account of race, color, religion, national origin, citizenship status, ancestry, age, sex, sexual orientation, marital status, physical or mental disability, military status or unfavorable discharge from military service.
AMERICANS WITH DISABILITIES ACT (ADA)
The City shall make reasonable modifications in policies, practices, or procedures when the modifications are necessary to avoid discrimination on the basis of disability, unless the City can demonstrate that making the modifications would fundamentally alter the nature of the service, program, or activity. The City of Andover will not place surcharges on individuals with disabilities to cover the costs involved in making programs accessible. Those applicants requiring reasonable accommodation to the application and/or interview process should notify the City's Assistant City Administrator.
CONDITIONS OF EMPLOYMENT
Drug Free Workplace
The City of Andover is committed to a Drug-Free Workplace. I understand that the City of Andover requires the successful completion of a urinalysis for drug testing purposes as a condition of employment. Completion of an application does not constitute an employment contract or an offer of employment.
At Will Employment
Employment with the City of Andover is considered "at-will." Consideration for employment has not established any obligation for the City of Andover to hire me. If I am hired, I understand that either the City of Andover or I can terminate my employment at any time and for any reason, with or without cause and without prior notice.