Partner Information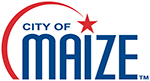 "Where Community Counts"
Maize is a progressive city located in Sedgwick County, Kansas with a population of approximately 4,500 people. Maize is located in close proximity to the Northwest limits of Wichita and has the feel of a small town with big city luxuries. Maize schools are ranked among the top in the nation for educational standards. Over the years, Maize has experienced expanded residential growth making it one of the fastest growing cities in the state.
Benefits
Earned Leave - Employees accrue earned leave based on years of service with the city. Earned leave time may be used for vacations, illness, personal business, bereavement, etc.
Holidays - The City recognizes 9 paid holidays each year.
Medical Insurance - Health insurance is provided through Blue Cross and Blue Shield. The City covers 80% of employer and family medical insurance.
Dental Insurance - Dental insurance is provided through Delta Dental of Kansas.
Vision Insurance - Vision insurance is available for employees through EyeMed.
Retirement - The City provides a retirement program through Kansas Public Employees Retirement System (KPERS).
Deferred Compensation - Optional retirement savings program is available to employees.
Health Care Reimbursement
Dependent Care Reimbursement
Optional Disability Insurance
Performance Pay Increases - Employees have an opportunity for a merit increase based on performance review.
Employee Assistance Program (EAP) - The EAP provides confidential, professional consultation for assistance in resolving personal issues. This free service is available to regular full-time employees beginning on their first day of employment. Employees may voluntarily seek the services of the EAP as needed.
Tuition Reimbursement – Full-time employees who enroll in approved courses at accredited schools are eligible for reimbursement of tuition expenses up to $250 per credit hour not to exceed $750 per semester upon proof of successful completion. Lifetime reimbursement benefit shall not exceed $5,000.
Discount Membership to the YMCA
The City of Maize is an Equal Opportunity Employer.
It is the policy of the City of Maize not to discriminate in its programs or services provided to the general public, including employment and all other activities, on the basis of race, color, religion, national origin, citizenship, sex, age, disability, veteran status or any other similarly protected status.
American Disabilities Act (ADA)
The City of Maize does not discriminate on the basis of disability in its hiring or employment practices. Those applicants requiring reasonable accommodation to the application and/or interview process should notify the Maize City Clerk. The City shall make reasonable modifications in policies, practices, or procedures when the modifications are necessary to avoid discrimination on the basis of disability, unless the City can demonstrate that making the modifications would fundamentally alter the nature of the service, program, or activity.