Partner Information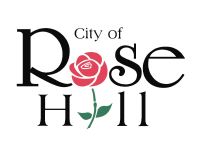 The City of Rose Hill is a growing community of 4,000 people located in southwest Butler County...a short 15 minute drive from Wichita, We take pride in our state-of-the-art academic and athletic facilities. Post secondary educational opportunities are enhanced by the Health Science Academy at the Butler Community College-Rose Hill site. Small plan enthusiasts will find easy, all-paved access to Cook airfield 2 miles west of our community. Many fine parks, which include a 9 acre pond/community fishery in our School Street Park, providing healthy recreation for the entire family.
Benefits
Vacation Leave—All regular City employees are eligible to take paid vacation after 6 months. Employees accrue vacation each month.
1st - 5th year = 80 hours
6th - 10th year = 96 hours

11th year and after = 144 hours

· Sick Leave - Employees accrue 8 hours of sick leave per month.
· Holidays - The City provides 14 paid holidays.
· Medical and Dental Insurance - Coverage is provided by United HealthCare and Delta Dental. City of Rose Hill covers 80% of premium.

· Retirement - All eligible employees of the city are members of the Kansas Public Employees Retirement System (KPERS) and receive the benefits thereof in accordance with state law and guidelines. Under current law, KPERS members contribute a percentage of salary, by payroll deduction. The employer's share is determined by KPERS, and varies annually.

· Deferred Compensation - Optional retirement savings program is available to employees.

· Optional Group Life Insurance - Optional group life insurance is available to employees.

· Other Optional Insurance - Additional insurance plans are available to employees including cancer and accident plans.

· Performance Pay Increases - Employees have an opportunity for a merit increase based on annual performance reviews.
CONDITIONS OF EMPLOYMENT
Drug Free Workplace
The City of Rose Hill is committed to a Drug-Free Workplace which requires the successful completion of a urinalysis for drug testing purposes as a condition of employment. Completion of an application does not constitute an employment contract or an offer of employment.

At Will Employment
Employment with the City of Rose Hill is considered "at-will". Nothing contained within the City's applications, advertisement process, or the personnel manual constitute an employment contract.

Equal Opportunity Employer.
It is the policy of the City of Rose Hill not to discriminate in its programs or services provided to the general public, including employment and all other activities, on the basis of race, color, religion, national origin, citizenship, sex, age, disability, veteran status or any other similarly protected status.
American Disabilities Act (ADA)
The City of Rose Hill does not discriminate on the basis of disability in its hiring or employment practices. Those applicants requiring reasonable accommodation to the application and/or interview process should notify a representative of the Human Resources Department. The City shall make reasonable modifications in policies, practices, or procedures when the modifications are necessary to avoid discrimination on the basis of disability, unless the City can demonstrate that making the modifications would fundamentally alter the nature of the service, program, or activity.
CONTACT INFORMATION
If you have any questions about employment with the City of Rose Hill, contact:
Kelly Mendoza
City of Rose Hill
Rose Hill, KS 67133
316-776-2712
kmendoza@cityofrosehill.com