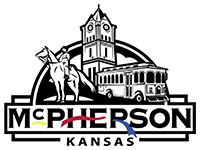 Human Resource Generalist - City of McPherson
Apply
City of McPherson Administration Department
POSITION SUMMARY
Under the supervision of the Human Resource Manager, the Human Resource Generalist is an exempt position under the FLSA. This position is responsible daily functions of the Human Resource (HR) department including hiring and interviewing staff, administering pay, benefits, and leave, and enforcing company policies and practices. This position should possess excellent communication, organizational, accounting, public relations, oral and written communication skills.
ESSENTIAL FUNCTIONS
· Recruits, interviews, and facilitates the hiring of qualified job applicants for open positions; collaborates with departmental managers to understand skills and competencies required for openings.
· Conducts or acquires background checks and employee eligibility verifications.
· Implements and conducts new hire orientation and employee recognition programs.
· Handles employment-related inquiries from applicants, employees, and supervisors, referring complex and/or sensitive matters to the appropriate staff.
· Attends and participates in employee disciplinary meetings, terminations, and investigations.
· Maintains compliance with federal, state, and local employment laws and regulations, and recommended best practices; reviews policies and practices to maintain compliance.
· Assist in developing and executing personnel procedures and policies, and provides guidance and interpretation for business operations.
· Participates in development of HR objectives and systems, including metrics, queries, and ongoing reports for company requirements.
· Assist in administering benefits, compensation, and employee performance programs.
· Suggest new procedures and policies for improving employee experience as well as the efficiency of HR department and company.
· Assists with the coordination of the Safety Committee, Wellness Committee and Wellness Plan.
· Serves as back-up to the HR Manager.
· Serves as back-up to the Payroll and Benefits Coordinator; Assists with KPERS/KP&F enrollment and reports.
· Follows department policies and procedures.
MARGINAL FUNCTIONS
· Completes miscellaneous surveys and questionnaires;
· Part of the Administrative Support Pool;
· Assists other departments as needed;
· Performs other duties as assigned.
Experience: A minimum of two to three years of human resource management in the public or private sector or similar related experience is required. Employee is expected to have acquired the necessary information and skills to perform the job reasonably well within six months to one year of employment. Must be bondable and have a valid State Driver's License or ability to obtain one.

Education: Experience in human resources management and college credit in Human Resource Management, Business Administration, Public Administration, or a related field is strongly preferred. Existing SHRM Certification is highly preferred. Employees who are hired without SHRM Certification are expected to acquire such certification within 12 months of hire.
Technical Skills: A thorough knowledge of office procedures, managing spreadsheets, computers, bookkeeping duties, and a working knowledge of some mathematics are required. Confidentiality of employee information is critical for this position. This employee must be able to operate computers, printers, calculators, photocopiers, and other office equipment. The ability to follow department policies and procedures, to concentrate on tasks in the presence of distractions, to prepare reports, to type with speed and accuracy, and to interpret written instructions, proposals, reports, and financial statements is required. This employee should possess excellent accounting, organizational, public relation, oral and written communication skills.
Problem Solving: Independent problem solving is involved in this position. This employee encounters problems with employee and supervisor issues. This employee will be directly involved in working with department heads in progressive disciplinary action and should be able to develop a working knowledge human resource trends and case law which will impact decisions made in the organization.
Decision Making: Independent decision-making is involved in this position. This employee makes decisions about resolving citizen and personnel issues, prioritizing daily work assignments, and performing daily duties in the most efficient manner.
Supervision: This employee works with limited supervision from the HR Manager. This employee does not exercise supervisory authority.
Financial Accountability: This employee is responsible for city resources and equipment. This employee participates in the annual budget processes and may be asked to give guidance regarding pay and benefits fiscal impacts.
Personal Relations: Daily contact with the general public, co-workers, and supervisory personnel, and occasional contact with the organization's governing body is expected. Success of this job is dependent on maintaining a working relationship with supervisors and department heads.
Working Conditions: No adverse working conditions exist within this position. Working in an office setting with a computer is the primary aspect of this position.
Physical Requirements: Physical activity associated with working in an office setting is required to perform the daily duties of this position. Prolonged periods of sitting at a desk and working on a computer. Must be able to lift 15 pounds at times. Must be able to access and navigate each department at the organization's facilities.
***The specific statements shown in each section of this description are not intended to be all-inclusive. They represent typical elements and criteria considered necessary to successfully perform the job.