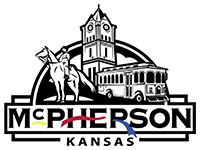 Street Department - Operator In Training - City of McPherson
Apply
City of McPherson Public Works Department – Street Division
POSITION SUMMARY
Under the supervision of the Street Superintendent, the position of Operator In Training is non-exempt under FLSA. This employee operates and maintains department equipment and assists with the maintenance and repairs to city streets and alleys. This employee should possess a strong mechanical aptitude, and effective communication and public relation skills.
ESSENTIAL FUNCTIONS
Performs maintenance, repairs, and construction of city streets, alleys, and right-of-ways;
Performs forming and pouring of concrete for sidewalks, curbs and gutters;
Loads and unloads sand, dirt, asphalt, rock, straw and other materials as needed;
Cleans ditches and culverts;
Performs snow and ice removal during inclement weather;
Performs street sealing and overlay duties;
Performs minor maintenance and repairs to department equipment;
Delivers necessary equipment and materials to work sites;
Follows department policies and procedures;
Follows safety procedures and practices.
Provides and participates in emergency responses which, while not all inclusive, may include traffic control for extended periods, continual and strenuous sandbagging, emergency repairs to public facilities, assisting with evacuations, etc.
MARGINAL FUNCTIONS
Performs flagging duties;
Performs mowing duties;
Performs painting duties;
Assists with the repair and installation of street signs;
Assists with the cleaning of sewer and storm drains;
Assists other departments as the need arises;
Performs other duties as deemed necessary or assigned.
Classification
Quick View
FLSA: NON-EXEMPT
ADA: APPLICABLE
FMLA: ELIGIBLE
KPERS: ELIGIBLE
OSHA:
BLOODBORNE PATHOGENS
CONFINED SPACES
WORKING CONDITIONS:
HAZARDOUS CHEMICALS
EXPLOSIVES
ADVERSE WEATHER
MANUAL LABOR
OPERATOR IN TRAINING
POSITION REQUIREMENTS
Experience: No experience is required. Employee is expected to have acquired the necessary information and skills to perform the job reasonably well within six months of employment.
Education: A high school diploma or GED is required. This employee must possess a valid Class B Kansas Commercial Driver's License (CDL) within (6) months of employment and have and maintain a good driving record.
Technical Skills: A rudimentary knowledge of construction techniques, equipment maintenance, and mathematics is required. The employee must be able to operate trucks, large equipment, hand tools, and other department equipment. The ability to follow department safety policies and procedures and to interpret written and oral instructions is required. This employee should possess a good mechanical aptitude.
Problem Solving: Limited problem solving is involved in this position. This employee encounters problems with equipment malfunctions. Serious problems are reported to the Street Superintendent or the Crew Leader.
Decision Making: Limited decision-making is involved in this position. This employee makes decisions about performing necessary street repairs, maintaining department equipment, and performing daily duties in the safest and most efficient manner.
Supervision: This employee works with frequent supervision from the Street Superintendent and Crew Leader. This employee does not exercise any supervisory responsibilities over subordinate personnel.
Financial Accountability: This employee is responsible for the safe operation of department equipment. This employee does not participate in the annual budget process.
Personal Relations: Daily contact with the general public, co-workers, and supervisory personnel is expected.
Working Conditions: Some adverse working conditions exist within this position. Exposure to hazardous chemicals, explosives, blood borne pathogens, heavy machinery, excessive noise, work in confined spaces, heights, and all types of weather condition is expected. Incumbents must be willing to work mandatory overtime when required; may be required to work nights, weekends, and holidays, as required in emergency situations.
Physical Requirements: Manual labor including lifting and carrying heavy objects, bending, kneeling, climbing, and the ability to operate departmental equipment is required daily in this position.
Residential Requirements: Must obtain residency within 15 miles of the city limits of McPherson
***The specific statements shown in this description are not intended to be all-inclusive. They represent typical elements and criteria considered necessary to successfully perform the job.
Updated: 06/23/2020 Department of Labor classification: Level 4 position