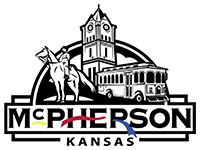 Finance Director - City of McPherson
McPherson, KS
Apply
Finance Director
City of McPherson Administration Department
POSITION SUMMARY
Under the supervision of the City Administrator, the Finance Director is an exempt position under the FLSA that oversees all financial aspects of the City. Performing accounting and bookkeeping duties, investing idle funds, working with administration, finance, department heads, and elected official in preparing the annual City budget and financial statements are the primary responsibilities of this position. This position should possess excellent communication, organizational, accounting, and public relation skills.
ESSENTIAL FUNCTIONS
· Serves in the official statutory capacity of City Treasurer.
· Establishes and maintains effective relationships with employees, the governing body and the public.
· Responsible for maintaining sufficient bank balances between investments and checking accounts.
· Makes investments of idle funds, including City General Fund, Salthouse Broadway Trust, and other funds.
· Prepares, analyzes, and presents financial reports and financial statements in an accurate and timely manner; clearly communicates monthly and annual financial statements.
· Establishes and maintains account numbers, inputs and maintains accounts in the City financial accounting system, ensures all established controls are met.
· Effectively assigns and supervises the Finance Department made up of the Assistant City Finance Director, Staff Accountant and other assignees from time to time.
· Maintains and applies knowledge of the principles, practices and ethics of municipal finance, including accounting, treasury management, revenue administration and budgeting.
· Maintains bank balances in City's internal accounts.
· Responsible for bank holdings and pledging.
· Responsible for bonded indebtedness, issuance process, principal and interest schedules and payments, City and BPU.
· Updates various policies as they relate to purchasing, debt management, and other City wide financial accounting practices.
· Responsible for special assessments by bond issue.
· Responsible for registration and issuance process of temporary notes and principal and interest schedules per individual owner.
· Responsible for ensuring the debt covenant requirements are maintained.
· Responsible for maintaining post-issuance compliance through the life of the bonds.
· Calculates special assessments on capital improvement projects.
· Works with financial advisor in sizing Temporary Note and Bond Issues.
· Coordinates, leads, and assists in the preparation of the annual audit process, serving as a liaison for external auditors, meeting deadlines for information expectations in a timely manner.
· Oversees the annual budgeting process to include completing the state budget form. Works with City Commission, staff, and Department Heads during the budgeting and planning process. Reviews all capital improvement plans and department budgets.
· Oversees budget changes and keeps management and City Commission abreast of the organization's financial status by preparing and presenting monthly Budget to Actual and other financial investment reports.
· Prepares and publishes quarterly financial reports.
· Responsible for Industrial Revenue Bonds, including payment schedules and balances.
· Responsible for the registration and management of any Community Improvement District sales tax project and other economic incentive programs.
· Assists with grant administration by providing financial data needed for reporting.
· Responsible for financial forecasting and preparation and management of the City's Capital Improvement Plan.
· Maintains Financial Statement Controls on the City's financial software.
· Looks to improve efficiency and effectiveness of financial records and City budgets through use of available finance software.
· Prepares and electronically approves journal entries.
· Effectively conducts studies and investigations as assigned.
· Works with subordinate staff and other administration staff to ensure separation of duties for financial management functions and other administrative duties.
· Oversees monthly reconciliation for City checking accounts.
· Follows department policies and procedures.
Quick View
FLSA: EXEMPT
ADA: APPLICABLE
FMLA: ELIGIBLE
KPERS: ELIGIBLE
OSHA:
WORKING CONDITIONS:
MARGINAL FUNCTIONS
· Updates various City forms.
· Prepares contracts and manages any financial obligations.
· Prepares and monitors inter department transfers.
· Assists other departments as needed such as backup for the Assistant Finance Director.
· Performs other duties as deemed necessary or assigned.
POSITION REQUIREMENTS
Experience: Three to Five years of similar or related experience is required. Employee is expected to have acquired the necessary information and skills to perform the job reasonably well within one year of employment.
Education: A Bachelor's Degree and experience in Accounting, Finance, Public Finance, Investment Banking, or college credit in a related field is required. Having a designation of Certified Public Finance Officers (CPFO) or Certified Local Government Finance Officer (CLGFO). A Master's Degree is preferred.
Technical Skills: A thorough knowledge of office procedures, accounting principles, computers, bookkeeping duties, and a working knowledge of investments and mathematics are required. This employee must be able to operate computers, printers, calculators, photocopiers, and other office equipment. The ability to follow department policies and procedures, to interpret data, to prepare reports, to read and prepare budget reports, and to interpret written instructions, proposals, reports, and financial statements is required. This employee should possess excellent accounting, finance, organizational, public relation, oral and written communication skills.
Problem Solving: Independent problem solving is involved in this position. This employee encounters problems with accounts not balancing, interpretation of city codes and state statutes, fund investments, and non-compliance with standard accounting procedures.
Decision Making: Independent decision-making is involved in this position. This employee makes decisions about investing city funds, projecting future disbursements, and performing daily duties in the most efficient manner.
Supervision: This employee works with occasional supervision from the City Administrator. This employee does have supervisory responsibilities over subordinate personnel.
Financial Accountability: This employee is responsible for city resources and equipment. This employee required to be bonded. This employee does participate in the annual budget process.
Personal Relations: Daily contact with the general public, co-workers, and supervisory personnel, and occasional contact with the organization's governing body is expected.
Working Conditions: No adverse working conditions exist within this position. Working in an office setting with a computer is the primary aspect of this position.
Physical Requirements: Physical activity associated with working in an office setting is required to perform the daily duties of this position.
***The specific statements shown in each section of this description are not intended to be all-inclusive. They represent typical elements and criteria considered necessary to successfully perform the job.
Updated: 11/14/23