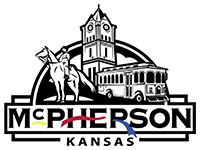 Police Patrol Officer - City of McPherson
Apply
Job Description:
The McPherson Police Department is seeking a highly motivated person with a desire to serve our community to fill a position as a full-time Police Officer. Serving as Police Officer is challenging, but will provide you with many opportunities for professional growth. The McPherson Police Department has a wide range of opportunities for advancement and specialization within the Patrol, Operations, and Administrations Bureaus, including Investigations, Special Response Team, Crisis Negotiations Team, Bike Patrol, Honor/Color Guard Team, Critical Incident Stress Management/Peer Support Team, Firearms Instruction, Defensive Tactics Instruction, D.A.R.E. Officer, School Resource Officer, and Social Media Team. The City of McPherson is centrally located in the United States and within the State of Kansas, at the intersection of I-135 and US-56. Those selected to fill open positions will be enforcing local, state, and federal laws, as well as investigating crimes, enforcing traffic regulations, investigating traffic collisions, and assisting the public. State-certified officers are preferred, however basic Law Enforcement Academy Training (KLETC) will be provided. Included is a generous benefits package, paid holidays, sick, and vacation time. Qualified applicants must have above-average written and verbal skills. The McPherson Police Department is an Equal Opportunity Employer (EOE).
Requirements: Applicants must be a U.S. Citizen, 21 years of age at the time of application, and have a high school diploma or equivalent; college is preferred, with a clean criminal record, and vision correctable to 20/20. Applicant must pass a written test, physical agility test, background investigation, oral interview, and additional conditional job testing. The work schedule requires weekends, holidays, rotating shift work, overtime, and court appearances. Residency within 35 miles of the McPherson City Limits must be established within six months of hire.
Applicants must not have any Brady/Giglio material in their background to be eligible for hire.
Wages start at $20.90/hr., with step increases to $28.18/hr. (Commensurate with experience)
Applicants, you must submit the completed Supplemental Responses with your application to continue in the hiring process.
BENEFITS:
The City of McPherson provides, as a sampling, the following benefits for full-time employees:
Paid Vacation Time
Paid Employee Sick Leave Time (including optional family Sick Leave)
Paid Injury Leave
10 Paid Holidays
Health & Dental Insurances
KP&F Retirement Programs
Optional ING Deferred Compensation Plan (457 Plan)
Death Benefit
City of McPherson
Police Department
POSITION SUMMARY
Under the supervision of the Police Patrol Sergeant and/or the Police Patrol Lieutenant, at the direction of the Police Chief, the Police Patrol Officer is a non-exempt position under FLSA, which protects and serves the citizens of McPherson.
ESSENTIAL FUNCTIONS
Enforces all federal, state, and local laws and ordinances and maintains familiarity with each by constant study;
Protects the life, property, and peace of the citizens of McPherson;
Reports for duty at the time and place designated, attired in the regulation uniform and with all equipment serviceable;
Proceeds without unnecessary delay to an assigned beat upon establishing relief;
Make arrests, serve warrants, and issue citations;
Operates and maintains law enforcement equipment, including vehicles, firearms, and communications equipment;
Performs traffic control and building checks;
During an assignment to investigate major crime scenes secures the perimeter and preserves all evidence, interviews witnesses at the scene, photograph evidence and performs all other tasks delegated to them to accomplish the primary investigative function at the crime scene;
Studies the characteristics of the city, becoming acquainted with every city street, alley, and business establishment and shall give the attention necessary for keeping good order;
Cultivates good relations with all citizens and is especially friendly and helpful to children and the elderly;
Applies the principles of selective enforcement while patrolling, both in the control of traffic and in the control of criminal activity on any beat;
Observes and detects conditions that jeopardize the safety of persons and property, and takes appropriate action to correct such conditions;
Performs in a manner that will build public confidence;
Assists other law enforcement agencies.
Classification
Quick View
FLSA: NON-EXEMPT
ADA: APPLICABLE
FMLA: ELIGIBLE
KP&F: ELIGIBLE
OSHA: BLOODBORNE PATHOGENS
WORKING CONDITIONS:
HAZARDOUS CHEMICALS
EXPLOSIVES
ADVERSE WEATHER
ELEMENT OF RISK
MARGINAL FUNCTIONS
Follows department policies and procedures;
Follows safety procedures and practices;
Provides credible testimony at any court proceedings.
Performs other duties as needed or assigned.
POLICE PATROL OFFICER
POSITION REQUIREMENTS
Experience: The employee is expected to have acquired the necessary information and skills to perform the job reasonably well within one year of employment.
Education: A high school diploma or GED is required. This position requires graduation from the Kansas Law Enforcement Training Center, 40 hours of continuing education annually, a valid Kansas Driver's License (KDL) and have and maintaining a good driving record.
Technical Skills: A thorough knowledge of all federal, state, and local laws and ordinances, law enforcement techniques, criminal investigations, and mathematics are required. This employee must be able to efficiently operate firearms, patrol vehicles, computers, two-way radios, radar equipment, breath analysis equipment, and other law enforcement equipment. The ability to concentrate on tasks in the presence of distractions, to complete and check forms and documents, to understand and anticipate problems, and to read and interpret maps, manuals, legal documents, reports, and written instructions are required. This employee should possess excellent public relations, supervisory, organizational, oral, and written communication skills.
Problem Solving: Independent problem solving is involved in this position. This employee encounters problems with personnel issues, domestic violence, citizen complaints, and criminal investigations.
Decision Making: Independent decision-making is involved in this position. This employee makes decisions about making arrests, investigating crimes and accidents, resolving personnel issues, and performing daily duties in the safest and most efficient manner.
Supervision: The Police Patrol Officer works under the supervision of the Police Patrol Sergeant and/or the Police Patrol Lieutenant, within the Chain of Command, under the direction of the Police Chief. This employee exercises supervision over subordinate personnel.
Financial Accountability: This employee is responsible for the safe operation of department equipment.
Personal Relations: Daily contact with the general public, co-workers, and supervisory personnel are expected.
Working Conditions: Adverse working conditions exist within this position. Exposure to hazardous chemicals, explosives, heights, excessive noise, and adverse weather conditions is expected. This position contains an element of risk to personal safety while performing day-to-day duties. This employee may be exposed to bloodborne pathogens while investigating crime scenes, seizing and preserving evidence, and assisting other emergency services.
Physical Requirements: The ability to pass and maintain all physical activities and requirements of the Kansas Law Enforcement Training Center is required.
Residential Requirements: Must obtain residency within thirty-five miles of the city limits of McPherson within 6 months of employment.
***The specific statements shown in this description are not intended to be all-inclusive. They represent typical elements and criteria considered necessary to successfully perform the job
Applicants, you must submit the completed Supplemental Responses with your application to continue in the hiring process.
For further information, please contact C
aptain Mark Brinck at (620) 245-1200 or
mcphersonpd@mcpcity.com
View our recruitment video at https://www.youtube.com/watch?v=jCBTx2P4FjE
Follow us on:
Facebook: McPherson KS Police Department
Twitter: @McPhersonPD
Instagram: @mcphersonkspolice