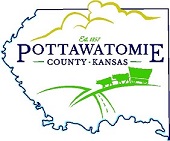 Maintenance Technician - Pottawatomie County
Apply
Starting Rate: $15.11 - $18.89/hour
Full-time position, includes excellent benefits (health, dental, vision insurance, KPERS retirement, paid time off, and more)
Responsibilities: This position is responsible for assisting the Building Facilities Manager in the planning, coordinating and implementation of minor construction projects and the operation and maintenance of building mechanical systems including, but not limited to, heating / air systems, electrical power, water supply and sewage systems in the Building and Grounds Division of the Public Works Department. Work occasionally involves the moving or lifting of heavy furniture and equipment.
Requirements: High school diploma, GED, or the equivalent, with 3-5 years of applicable building construction or facility maintenance experience is required. A building trade certificate (journeyman or apprentice electrician, plumber, etc.) is preferred.
Special Requirements: Must have (or be able to obtain within 60 days of employment), and maintain a valid Class A Commercial Driver's License (CDL); must have and maintain a clean driving record.
Closing Date: Applications accepted until positions have been filled.
Must have and maintain a clean driving record for this position. A "clean" record is defined as: No misdemeanor or felony convictions for traffic/vehicular offenses (such as but not limited to DUI, vehicular homicide, reckless driving, hit and run, etc.) that are less than five (5) years old; no more than two (2) at fault or chargeable accidents that are less than five (5) years old; no more than two (2) traffic infractions (such as but not limited to speeding, failure to yield right of way, etc.) that are less than one year old.
For questions regarding employment with Pottawatomie County, please contact Human Resources at 785-457-3455, PO Box 348, Westmoreland, KS 66549, or e-mail humanresources@pottcounty.org.
Drug Free Workplace: Pottawatomie County is committed to a Drug-Free Workplace. By submitting my application I understand the County requires the successful completion of a post-offer, pre-employment drug test as a condition of employment. This position may also requires additional testing, which may include written, verbal, or physical assessments.
Completion of an employment application does not constitute an offer of employment nor is a completed application considered a contract of employment. Employment with Pottawatomie County is considered to be "at-will". Submission of an application does not establish an obligation for Pottawatomie County to offer employment. Additionally, any misrepresentation or omission of information on the employment application may result in the rejection of the application or in dismissal from employment.