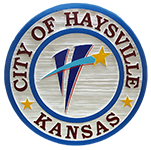 PW WASTEWATER OPERATOR - City of Haysville
Apply
Employer: City of Haysville
Division: Public Works
Job Title: Certified Wastewater Operator/Trainee
Salary: $11.85 - $19.15 Hourly
"GREAT THINGS ARE HAPPENING IN HAYSVILLE"
Haysville Kansas is a growing community located just south of Wichita. Preserving its small town atmosphere, Haysville is a close knit community that has a lot to offer, such as top rated schools, affordable housing, dining, and lodging along with several fun festivals and events throughout the year. It's a great place to live and raise a family.
The City of Haysville is accepting applications for a Certified Wastewater Operator.
A Wastewater Operator Trainee position will be considered for those applicants who have past work experience in, and general knowledge of, mechanics, equipment maintenance or other relatable skills. Paid on the job training and classes will be offered by the City to satisfy the requirement of acquiring a Class I Wastewater Operator certification within 18 months from hire date.
Job Description:
Responsible for the day to day operation and maintenance of the wastewater treatment facility, lift stations and sewer collection system. Duties include, daily collection and laboratory testing of wastewater samples. Adjustments to treatment process and equipment. Repair of pumps and motors. Operate tractor and tanker to land apply wastewater sludge. Operate sewer line cleaning equipment. Repair manholes and sewer lines. Identify and correctly mark sewer lines for Kansas One Call tickets. Assist other departments as deemed necessary or assigned.
Exposure to blood borne pathogens, raw sewage, odors, noise, gases, electrical and mechanical hazards is expected. Required to occasionally work in confined spaces such as manholes, pits, vaults and similar areas. Physical abilities include, but are not limited to, the ability climb and balance, kneel, crouch or crawl. The ability to lift or move up to 100 pounds. Working in all types of weather conditions can also be expected.
Regular work days are Monday-Friday 8am-5pm. This position is required to work a rotating, on call schedule, which will include some holidays, nights and weekends. Operator is subject to 24hr on call status for call outs.
Requirements:
High school diploma or GED equivalent
Valid Kansas Driver's License
Residency - 30 minute response time
Compensation:
Salary 11.85-19.10 hr. based on experience. The City of Haysville offers a great benefit package including health insurance, KPERS, paid vacations, holidays and more.
How to Apply:
Those interested in this position can apply at www.ksgovjobs.com or applications can be picked up at the Public Works Office, located at 401 S. Jane Haysville, Kansas. If you have questions about the position call Haysville Public Works at 316-529-5940. Position will remain open until filled.