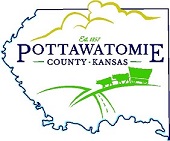 Gravel Road Supervisor - Pottawatomie County
Apply
INTERNAL APPLICANTS ONLYStarting Rate: $18.35/hr

Responsibilities: Under the supervision of the Assistant Public Works Director, the Gravel Road Supervisor is a non-exempt position under FLSA. This position manages the planning and operations of the District Blademen and all maintenance of the unpaved roads within the County. This employee assists in snow and ice removal management during inclement weather. Responsible for district patrol operators, district motor graders, pickup trucks, district backhoes, and blade-parking areas (sheds, fuel dispensers, miscellaneous district power and hand tools).

Requirements: A high school diploma, GED or equivalent, or graduation from a vocational school is preferred. One to three years of similar or related experience is recommended. Employee is expected to have acquired the necessary information and skills to perform the job reasonably well within six months to one year of employment.
For more information please contact Human Resources at 785-457-3455, PO Box 348, Westmoreland, KS, 66549 or humanresources@pottcounty.org.
Drug Free Workplace - Pottawatomie County is committed to a Drug-Free Workplace. By submitting my application I understand the County requires the successful completion of a post-offer pre-employment drug test as a condition of employment. This position may also require additional testing which may include written, verbal, or physical assessments.
Completion of an employment application does not constitute an offer of employment nor is a completed application considered a contract of employment. Employment with Pottawatomie County is considered to be "at-will". Submission of an application does not establish an obligation for Pottawatomie County to offer an interview or employment. Additionally, any misrepresentation or omission of information on the employment application may result in the rejection of the application or in dismissal from employment.