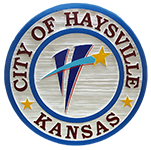 Part-Time Transportation Driver - City of Haysville
Apply
POSITION SUMMARY
Under the supervision of the Senior Center Director, the Transportation Driver is a non-exempt position under FLSA and performs duties that involve providing safe and reliable transportation to citizens of all ages and physical limitations. Responsible to examine daily condition and maintain proper records related to vehicle usage. Must maintain absolute confidentiality of information, data and records obtained through or because of employment with the City.
ESSENTIAL FUNCTIONS:
· Operate all vehicles in a manner that ensures the safety of passengers.
· Comply with all Kansas driving laws, as well as City and department policies and procedures.
· Check passenger's tickets for payment. Completes appropriate documentation of transportation provided.
· Assist passengers with disabilities, including wheelchair loading by securing wheelchairs with proper restraint procedures.
· Communicate with dispatcher when scheduling, passenger safety, or other situations arise.
· Assist dispatch with scheduling of transportation and other projects when schedule allows.
· Use check list to inspect vehicle and wheel chair lift daily to ensure all mechanisms are working correctly. Promptly notify supervisor of items needing maintenance or repair. Complete appropriate documentation of inspections.
· Clean and sanitize vehicle as needed throughout shift, as well as at the end of shift. Ensure sanitizing cleaning supplies are always readily available on vehicle and promptly notify dispatcher when supplies need ordered.
· Maintain logs and records related to vehicle inspections, transportation usage, and transportation routes.
· Promptly provide information directly to Senior Center Director or Administrative Secretary needed for reports.
· Present a positive image of the City through a professional appearance and courteous attitude;
MARGINAL FUNCTIONS
· Availability and willingness to work additional shifts when needed.
POSITION REQUIREMENTS
Experience: One to three years of similar or related experience is required. Expected to have acquired the necessary information and skills to perform the job reasonably well within six months to one year of employment. A minimum of five years driving experience with an unrestricted driver's license.
Education: A high school diploma or GED is required. A certified transcript will be accepted in lieu of a diploma. Must possess a valid Kansas Driver's License, a commercial driver's license (CDL) is preferred but not required. Must be CPR/First Aid trained, required within first 6 months of hire.
Technical Skills: Knowledge of the geography of the city, and names & locations of city streets and use of maps required. Must be able to read and follow a written schedule. Time management skills are required in order to keep the van on schedule. Ability to communicate effectively and clearly, both orally and in writing. Must maintain absolute confidentiality of information, data and records obtained through or because of employment with the City.
Problem Solving: Some independent problem solving. Encounter problems with citizens' concerns and complaints.
Decision Making: Impromptu decision making required to ensure safety of citizens in process of transportation entirely.
Supervision: Works under the direction of the Senior Center Director. Has no supervisory responsibilities.
Financial Accountability: Responsible for tracking and receiving proper payment for all transportation usage. Responsible for some department resources and is required to be bonded. Does not participate in the annual budget process.
Personal Relations: Frequent contact with the general public, volunteers, and supervisory personnel. Very limited contact with the governing body.
Working Conditions: Some adverse working conditions exist. May have contact with blood borne pathogens and human blood and fluids. Primarily working in a transit bus is the primary aspect of this position. Regular exposure to adverse weather conditions, possible hazardous elements, and possible dangerous situations.
Physical Requirements: Regular carrying, lifting and moving of 50 pounds. The ability to climb in and out of the van repeatedly throughout the day will be required and the ability to assist passengers on and off the van. The ability to push a wheelchair with a person weighing up to 300 pounds will be required. Occasional bending, stooping, crawling, squatting, and twisting. Regular use of manual dexterity throughout the day.
Compensation
$14.47 Per hour