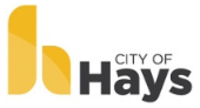 Inspector - City of Hays
Apply
INSPECTOR
The City of Hays is looking for a detail-oriented Inspector for our Planning, Inspection, & Enforcement Division. This position is responsible for enforcing residential & commercial building, zoning, plumbing, & electrical codes. Issuing permits, inspecting projects during construction & addressing code violations are included in the daily duties. Normal schedule for this position is Monday – Thursday 7:30 a.m. – 5:30 p.m. & Friday 7:30 a.m. – 11:30 a.m. with an alternative work schedule allowed to help achieve a work/life balance.

Requirements

Valid driver's license & High School Degree or GED required with a technical degree or some college credit preferred. Great customer service skills required. The ideal candidate would have the ability to interpret building codes regulations, written instructions & proposals as well as being able to operate computers & general office equipment. This position requires the Residential & Commercial Inspector Certification within 24 months. Residency requirement is a 40-minute response time.

Compensation & Benefits
Starting pay $18.45/hour. Pay based on experience with guaranteed raises every year along with the ability to advance to a Senior Inspector. The City of Hays offers great benefits including health insurance, paid time off, KPERS & holidays. The full pay range and benefits can be found at www.haysusa.com/employment.

How to Apply

Applications will be accepted online at www.haysusa.com/employment. Position opened until filled. Questions about the position may be sent to Alissa at hr@haysusa.com or by calling 785-628-7320. EOE
***PLEASE APPLY USING THIS LINK. DO NOT USE KSGOVJOBS.COM TO APPLY***