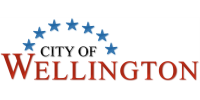 TRANSFER STATION/LANDFILL CLERK - City of Wellington
Apply
Position Summary
Under the supervision of the Sanitation Supervisor and/or the Public Works Director, this position performs a variety of clerical and front-line public contact duties as needed relating to public admittance into the city landfill. The Landfill Clerk operates weight scales, screens and monitors waste, and collects fees for disposal in the transfer station/landfill. The Clerk informs the public of landfill requirements and rules. Work is subject to review by the Sanitation Supervisor and/or the Public Works Director.
Essential Functions
? Collects fees and monitors waste to assure compliance with facility regulations;
? Performs as landfill gate attendant; assures appropriate admittance of public and waste collection contractors;
? Receives and receipts fees; calculates fees and charges customers in accordance with established fee schedules and in compliance with the weight and content of waste loads;
? Files weight tickets for each load, records and secures and balances cash receipts, and maintains records of all incoming/outgoing loads that cross the scales, makes regular revenue deposits;
? Ensures accuracy of weight tickets, fee calculations, receipts and drawer balance;
? Operates scales and maintains detailed records of type of waste entering the landfill;
? Observes waste to identify hazardous waste or other materials prohibited from deposit in public landfill;
? Monitor customer activities to assure compliance with established rules and regulations;
? Answers landfill office telephone, responds to public's questions regarding prices, acceptable waste, hours of operation, and directions to the facility;
? Instructs the public and drivers to the appropriate tipping areas;
? Operates radio and two-way communications as needed to alert equipment operators of suspicious activity or waste loads;
? Maintains work area and equipment in a safe and clean condition at all times. Keeps the scales clean and free of debris;
? Performs custodial duties to clean and maintain the landfill office;
? Maintains paperwork for KDHE permits, including log sheets, inspection sheets and monthly reports.
Marginal Functions
? Assists other City departments as required/directed;
Performs other duties and responsibilities as required and/or assigned.

Position Requirements
Experience: Some experience in bookkeeping/accounting is preferred. Employee is expected to have acquired the necessary information and skills to perform the job reasonably well after six (6) months in the position.
Education/Licenses: High school diploma or General Education Degree (GED).
Technical Skills: Good math aptitude with ability to add, subtract, multiply and divide whole numbers, common fractions and decimals. Ability to efficiently operate general office equipment (i.e. copy machine, computer, cash register and adding machine/calculator). Ability to deal tactfully and courteously with others and to communicate effectively and clearly, both orally and in writing.
Problem Solving: Requires limited problem solving as most duties are defined and consistent from day to day. Problem solving is accomplished in conjunction with the Sanitation Supervisor.
Decision-Making: Limited decision making is required and accomplished in conjunction with the Sanitation Supervisor.
Supervision: This position works independently in the daily tasks and functions. This position has no supervisory responsibility and work performance is reviewed by the Sanitation Supervisor and/or Public Works Director.
Accountability: Employee is accountable for the proper collecting, recording, receipting, and depositing of all fees and monies. Employee is responsible for the efficient use of time and materials and for the reporting of any problems immediately to supervisory personnel.
Personal Relations: Frequent contact with the general public and regular contact with other city staff.
Working Conditions: Work is mainly performed in a remote office setting. Exposure to loud noises, fumes, odors and extreme weather conditions is frequent when screening waste loads. Work hours generally Monday - Thursday, 9:00 a.m. to 4:30 p.m., Friday, 8:00 a.m. to 4:30 p.m., and Saturday, 8:00 a.m. to 12:00 p.m. Some overtime hours may be occasionally required.
Physical Requirements: Activities include balancing, stooping, kneeling, crouching, reaching, standing, walking, pushing, pulling, lifting, fingering, grasping, talking, hearing/listening/ seeing/observing, and repetitive motions. Physical demands include exerting up to 20 pounds of force occasionally, and/or up to 10 pound of force frequently, and/or negligible amount of force constantly to move objects. Vision abilities required include close vision, distance vision, color vision, peripheral vision, depth perception, and the ability to adjust focus.