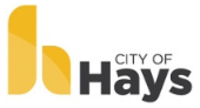 Seasonal Maintenance Worker - City of Hays
Apply
*****PLEASE APPLY ONLINE HERE. APPLICATIONS SUBMITTED THROUGH KSGOVJOBS WILL NOT BE REVIEWED.*****SEASONAL MAINTENANCE WORKERS
The City of Hays is accepting applications for Seasonal Maintenance Workers to be placed in various divisions within the Parks Department. Positions will be filled at different times during the months of March, April, & May, & will continue through the growing season.

REQUIREMENTS
Applicants must be 18 years of age or older & have a valid driver's license. These positions require manual labor and working in adverse types of weather. This employee should possess good maintenance, mechanical, construction & communication skills.

COMPENSATION
Starting wage: $10.30/hour.
HOW TO APPLY
Applications will be accepted online at www.haysusa.com or in City Hall, 1507 Main, Hays, KS. Applications will be reviewed weekly until jobs are filled. Questions about the position may be sent to Alissa at hr@haysusa.com or by calling 785-628-7320.
*****PLEASE APPLY ONLINE HERE. APPLICATIONS SUBMITTED THROUGH KSGOVJOBS WILL NOT BE REVIEWED.*****