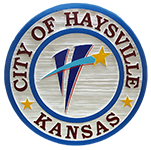 PW SEASONAL GENERAL MAINTENANCE WORKER - City of Haysville
Apply
https://www.facebook.com/HaysvillePublicWorks

The City of Haysville Public Works Department is accepting applications for a Seasonal General Maintenance Worker. We are seeking 16 to 17-year-olds to assist our full-time employees. This is a great opportunity to make summer cash and learn new skills in a professional career environment.
Job Description:
This position will perform unskilled duties including operating a weed eater, blower, and edger. This position performs manual labor and is responsible for assisting the Park, Street, and Water Departments during their normal duties.
Individuals with landscaping experience are encouraged to apply. This position is Full Time temporary and will work Monday through Thursday, 8 A.M. to 5 P.M. These seasonal positions will work from June 1st, 2021 – August 13th, 2021.
Exposure to blood borne pathogens, odors, noise, electrical and mechanical hazards is expected. Physical abilities include, but are not limited to, the ability climb and balance, kneel, crouch, crawl, and lift or move up to 100 pounds. Working in all types of weather conditions can also be expected.
Requirements:
16 to 17 Years Old Background Check
Valid Kansas Driver's License Physical Capacity Testing
Reliable transportation Drug/Alcohol Screening
Compensation:
Salary is $11.82 per hour.
How to Apply:
Those interested in this position can apply at www.ksgovjobs.com or applications can be picked up at the Public Works Office, located at 401 S. Jane Haysville, Kansas. Questions about the position can be submitted to Director of Public Works, Tony Martinez at Tmartinez@haysville-ks.com or by calling 316-529-5940.