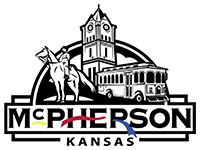 Wastewater Operator II - City of McPherson
Apply
POSITION SUMMARY
Under the supervision of the Superintendent/Chief Operator or Assistant Chief Operator, the Plant Operator II, is a non-exempt position under FLSA. This employee monitors and maintains all equipment at the wastewater plant and lift stations around the City. This position is subject to weekend and call-out rotation. This employee should possess a strong mechanical and technical aptitude and effective organizational and communication skills. This position requires a minimum Kansas Wastewater Operator Class II license.

ESSENTIAL FUNCTIONS
Monitors and maintains all equipment at the treatment facility and lift stations;
Hauls sludge and maintains records pertaining to land application;
Cleans, inspects, and repairs all department equipment;
Performs sample collection and laboratory analysis;
Able to prepare reports and maintain accurate records;
Performs grounds keeping activities;
Operates all department equipment;
Performs preventative, corrective, and emergency repairs on equipment;
Responds to emergency situations at the treatment plant and lift stations;
Familiar with computers to perform data entry and process control;
Works weekend rotations and after hours on-call;
Confined space operations;
Follows department policies and procedures;
Follows safety procedures and practices.
MARGINAL FUNCTIONS
Assists other departments as needed;
Performs other duties as deemed necessary or assigned.
POSITION REQUIREMENTS
Experience: Two year's experience in the operation and maintenance of an activated sludge treatment facility is required. Employee is expected to have acquired the necessary information and skills to perform the job reasonably well within one year of employment.

Education: A high school diploma or GED is required. This position requires a minimum of a Kansas Wastewater Operator Class II certificate. This employee is required to have a valid Kansas Commercial Class B Driver's License (CDL) and have and maintain a good driving record.

Technical Skills: Knowledge of mechanics, equipment maintenance, mathematics, electricity and computers is required. This employee must be able to accurately interpret laboratory data as it relates to the treatment process. This employee must be able to operate trucks, loaders, tractors, hand tools, diagnostic equipment, pumps, generators, and other department equipment. The ability to understand and anticipate problems, to follow department safety policies and procedures, and to interpret oral and written instructions is required. This employee should possess a strong technical and mechanical aptitude, and effective public relations, organizational, oral and written communication skills.

Problem Solving: Some independent problem solving is involved in this position. This employee encounters problems with equipment malfunctions, process upsets, and weather related problems.
Decision Making: Some independent decision-making is involved in this position. This employee makes decisions about performing necessary equipment repairs and maintenance, and performing daily duties in the safest and most efficient manner.
Supervision: This employee works with occasional supervision from the Assistant Chief Operator or Wastewater Superintendent/Chief Operator. This employee does not exercise supervision over subordinate personnel.
Financial Accountability: This employee is responsible for the safe operation of department resources and equipment. This employee does have limited authority to purchase necessary department supplies. This employee does not participate in the annual budget process.
Personal Relations: Contact with the general public, subordinate personnel, co-workers, and supervisory personnel are expected. Must work with others in a friendly, cooperative manner in a team setting.
Working Conditions: Adverse working conditions exist within this position. Exposure to blood borne pathogens, lockout/tag out procedures, hazardous chemicals, hazardous atmospheres, heavy machinery, excessive noise, permit required work in confined spaces, high voltages and all types of weather conditions is expected.
Physical Requirements: Manual labor including bending, kneeling, climbing, and the ability to operate departmental equipment is required daily in this position. Occasional heavy lifting is required. Must possess average agility to work in awkward positions in locations with limited or inconvenient access.
Residential Requirements: Must obtain residency within 15 miles of the city limits of McPherson
***The specific statements shown in this description are not intended to be all-inclusive. They represent typical elements and criteria considered necessary to successfully perform the job.