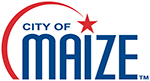 City Treasurer/Finance Officer - City of Maize
Apply
Come join the FASTEST growing city in the entire State of Kansas and be a part of the excitement!
Responsibilities:
• Responsible for the compliance and maintenance of all financial functions of the City
• Responsible for compliance with budget and cash basis law
• Responsible for payroll, withholding accounts, confidential personnel records and applicable reports
• Prepare deposits for City monies
• Coordinate with the budget team to establish a budget schedule to develop and implement an annual operating budget.
• Monitor purchases and expenditures in accordance with the adopted budget
• Manage and maintain the City's Investment Portfolio
• Keep the City Council advised of the financial status, budget targets, and related policies.
• Prepare monthly, quarterly, and annual financial reports
• Coordinate General Obligation Bonds with the city's financial advisor and bond attorney
• Maintain the bond register and payment schedule
• Provide supervision for the Accounting Clerk
• Attend various meeting as deemed necessary
• Promote the good will of the City
• Perform other tasks as assigned

Skills:
• Working knowledge of Kansas Statutes as applicable to budget and cash basis
• Working knowledge of general accept accounting practices
• Ability to use computerized bookkeeping systems
• Ability to research analyze and present data accurately with attention to detail
• Ability to work independently and in a team environment
• Ability to delegate tasks
• Ability to be punctual and in regular attendance
• Ability to communicate effectively; both orally and in writing
Education:
• Bachelors Degree in Business, Finance, Public Administration or related field
• Certified Public Finance Officer (CPFO) designation through the Government Finance Officers Association (GFOA) or ability to obtain certification within the first three (3) years of employment.

Experience:
• Municipal, County or State government finance experience is preferred.
• At least two (2) years of experience in financial administration, budget preparation, or accounting; five (5) years preferred.