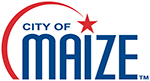 Police Officer - City of Maize
Apply
The Maize Police Department is seeking a motivated community-oriented individual who has strong work ethics, morals and the desire to serve and help others to fill the position of Police Officer.
TYPE: Full Time

SALARY:
Non-Certified: $20.00 to $21.54 /hr
Certified: $22.91 to $32.37 /hr based on experience and qualifications
BENEFITS INCLUDE: Current KPERS Retirement / KP&F Retirement beginning January 1, 2023, Earned Time Leave, Blue Cross Blue Shield Health Insurance with 3 options to choose from, Dental and Vision Insurance, Flexible Spending Accounts, Life and AD&D Insurance, Short Term Disability Insurance, Employee Assistance Program, Optional AFLAC and Legal Shield Benefits, Discount YMCA Membership, Uniform Allowance
MINIMUM QUALIFICATIONS:
Employment is contingent on successful completion of an initial interview, oral board interview, polygraph exam, extensive background investigation, physical, drug and alcohol screen, and psychological testing. Certified applicants must have a current CPOST certification or a certification from another state with reciprocity with KSCPOST standards.
During the application process your background will be closely examined. Review the following background disqualifiers prior applying for this position.
At minimum, applicants must satisfy the following:
Must meet all requirements as set forth in K.S.A 74- 5605.
If military service has been rendered, your DD214 must reflect a separation code and an honorable discharge or a discharge under honorable conditions.
Applicants will be eliminated from the process if they falsify, intentionally misrepresent, or are not completely truthful in the application or screening process. Elimination will also occur if an applicant has not fully disclosed ALL information requested on a questionnaire, document, or application as part of the pre-employment process.
No convictions of any misdemeanor crimes involving morals, drugs, or weapons charges in the past five (5) years.
No convictions or involvement in any misdemeanor crimes of violence, or use of physical force or threats, during the past five (5) years.
Has not been convicted, does not have an expunged conviction, and has not been placed on diversion by any state or the federal government for a misdemeanor crime of domestic violence or its equivalent under the uniform code of military justice, when such misdemeanor crime of domestic violence was committed on or after the effective date of this act.
No convictions or involvement in misdemeanor property crimes within the past three (3) years.
May not have been convicted of, plead guilty or no contest to, or been diverted on a serious traffic violation within the past three (3) years. Serious traffic violations include, but are not limited to, DUI, reckless driving, hit and run, vehicular homicide, and eluding a police officer.
No convictions, diversions, expungements, or involvement of any felony crime.
Must not be currently charged with, or under indictment for any criminal activity other than minor traffic violations.
As an adult or juvenile must not have been convicted of a crime involving an act of dishonesty to include, but not limited to, theft, insufficient funds, fraud, false police reports etc.
If you have previous law enforcement experience, YOU CANNOT HAVE a sustained violation of dishonesty to include, but not limited to, lying, falsifying reports or documents, illegally obtaining narcotics, or courtroom testimony/credibility.
THIS LIST IS NOT ALL INCLUSIVE. AN APPLICANT MAY ALSO BE DISQUALIFIED IF THE TOTALITY OF THE CIRCUMSTANCES INDICATES THAT YOU WOULD NOT BE SUITABLE AS A POLICE OFFICER WITH THE CITY OF MAIZE.
POSITION SUMMARY
Responsibilities:
Responsible for the enforcement of federal, state, local laws and City ordinances
Protects the life and property of the citizens of Maize
Makes arrests, issues traffic citations and performs traffic control duties
Follows department policies and procedures
Interviews witness, suspects, victims and prepares reports and files
Respond to citizen's calls and assists emergency crews as needed
Serves warrants, subpoenas and other legal documents
Testify in court when deemed necessary
Assists other law enforcement agencies
Maintains department/city owned equipment
Promote the good will of the City
Perform all tasks as assigned under direct supervision
Possess and maintain a valid Kansas Driver's License
Skills:
Working knowledge of current methods used in law enforcement
Ability to analyze situations quickly and effectively to determine a course of action
Working knowledge of geography of the city and surrounding areas
Ability to remember names, faces and details of incidents
Ability to understand and follow written and oral instructions
Ability to communicate effectively and clearly, both orally and in writing
Ability to deal firmly, but courteously with the public
Ability to perform first aid
Ability to work irregular hours
Skill in use of firearms
Ability to be punctual and in regular attendance
Education:
High school graduate or GED
Kansas Law Enforcement Training Center Certification
Experience:
Completion of KLETC full-time academy or states recognized training with KSCPOST/KLETC reciprocity