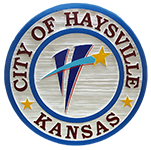 Part Time Transportation Dispatcher - City of Haysville
Apply
POSITION SUMMARY
Under the supervision of the Senior Center Director, the Transportation Dispatcher is a non-exempt position under FLSA and performs duties that involve scheduling safe and reliable transportation to citizens of all ages and physical limitations. This position requires the ability to work independently while performing in a team environment. Must maintain absolute confidentiality of information, data and records obtained through or because of employment with the City.
Starting pay is $16.34/hour.

ESSENTIAL FUNCTIONS
- Responsible for receiving, scheduling, dispatching and timecards for the Haysville Hustle.
- Answer calls and schedule transportation as requested by riders.
- Assist riders with purchasing tokens needed to pay for ride.
- Ability to read maps and locate rider pick-up and delivery addresses as requested.
- Communicate with Haysville Hustle Driver when schedules change, passenger safety, or other situations arise.
- Timely completion of data needed to maintain/complete or satisfy grant requirements including any administrative reports requested.
- Track, schedule and record maintenance inspections to maintain vehicle readiness and warranty compliance.
- Maintain an adequate supply of sanitizing or cleaning supplies as needed by the transportation driver.
- Promptly provide information directly to Senior Center Director or Administrative Secretary needed for reports.
- Assists Director and Administrative Secretary with daily duties and task lists.
- Ability to interact with the general public and communicate clearly and effectively, both orally and in writing.

MARGINAL FUNCTIONS
- Promotion of Haysville Hustle program as requested by the Senior Center Director.
- Assist staff as an alternate Haysville Hustle Driver.
- Performs other duties as deemed necessary or assigned.

POSITION REQUIREMENTS
Experience: One to three years of similar or related experience is preferred. Expected to have acquired the necessary information and skills to perform the job reasonably well within six months to one year of employment. A minimum of five years driving experience with an unrestricted driver's license.

Education: Must possess a valid Kansas Driver's License (or obtain within 30 days of employment). Must be CPR/First Aid trained, required within first 6 months of hire.

Technical Skills: Knowledge of the geography of the city, names and general locations of city streets and use of maps required. Must be able to read and follow a written schedule. Time management skills are required in order to keep the Haysville Hustle on schedule. Ability to communicate effectively and clearly, both orally and in writing. Must maintain absolute confidentiality of information, data and records obtained through or because of employment with the City. Knowledge of typing, clerical skills, clerical procedures and computer usage. Proficient in Microsoft Word, Excel, and Publisher.

Problem Solving: Some independent problem solving while operating within the City's policy may be needed.

Decision Making: Impromptu decision making required especially in matters that ensure the safety of riders during transportation.

Supervision: Works under the direction of the Senior Center Director. Has no supervisory responsibilities.

Financial Accountability: Responsible for tracking and receiving proper payment for all transportation usage. Collecting payments and distribution of Haysville Hustle tokens in accordance with the city's cash handling procedures. Responsible for some department resources and is required to be bonded. Does not participate in the annual budget process.

Personal Relations: Frequent contact with the general public, volunteers, and supervisory personnel. Very limited contact with the governing body.

Working Conditions: Office environment with occasional carrying, lifting, or pushing. May have contact with blood borne pathogens and human blood and fluids. Primarily working in an office setting dealing with the general public. Very limited driving of transit bus as necessary.
Physical Requirements: Frequently required to sit, and talk or hear, use hands, fingers, handle, feel or operate objects, tools, or phone and reach with hands and arms. Occasionally required to walk. Specific vision abilities required by this job include close vision and the ability to adjust focus. Must safely operate a vehicle.